FREE ESTIMATES
Know what you'll pay before the work is done.
Call (317) 850-5114
3C Plumbing installs and services water softeners to treat water with high mineral content (hard water,) as well as alternative systems that do not require the use of salt.
How Water Softeners Work
Water softeners reduce the concentration of calcium, magnesium, and other ions in hard water. These "hardness ions" can cause a variety of undesired effects including interfering with the action of soaps, the build up of scale, which can foul plumbing, and corrosion of pipes, faucets, shower heads, etc.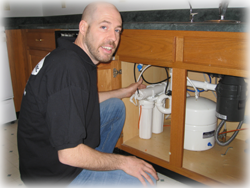 Cy Cadwalader, 3C Plumbing, installs water softener and purification systems like this under-sink Reverse Osomosis water purifying and storage unit.
Conventional water-softening appliances intended for household use depend on an ion-exchange resin in which hardness ions trade places with sodium (salt) ions.
Water softening may be desirable where the source of water is too hard.
However, hard water does convey some benefits to health by providing dietary calcium and magnesium and reducing the solubility of potentially toxic metal ions such as lead and copper.
Water Softener Basics
There are a variety of options you can employ to solve your hard water problem, including reverse osmosis and distillation. The most cost effective option is to have a water softening system installed in your home.
Watch this short video (3:07) from Kinetico Water Systems for a basic look at how water softeners work.
For more in-depth, clearly written information on the subject, read the InspectAPedia.com article How Water Softeners Work, which covers operation, maintenance, adjustment, and a water softener's affect on drinking water and on septic systems.
Learn more: Water Softener Pros & Cons
ONE YEAR WARRANTY
One Year Labor/Workmanship Warranty on all work we perform.
Call (317) 850-5114
If you are thinking about adding a water softener to your home, but this all seems too much to deal with, 3C Plumbing can help. We have the experience to help you determine the water softening / conditioning solution that best fits your needs, which system to select, and the correct size and type of equipment for your application. Call (317) 850-5114 to arrange a free in-home estimate.